Open Letter to Southern Water
Mr Matthew Wright
Chief Executive
Southern Water
Yeoman Road
Worthing
BN13 3NX
Dear Mr Wright
Southern Water contract with Arad Technologies
I would like to congratulate Southern Water on its continuing contract with Arad Technologies in Israel, for the supply of the latest and most technologically advanced water meters, for your universal metering programme across Sussex.
The fact that Arad Technologies were your first choice is no surprise as Israeli businesses are at the forefront of technological innovation and in this case the technology offered will not only benefit your customers, but the environment too.
Southern Water's ongoing multi-million pound contract with Arad is an important contribution to bilateral trade between the UK and Israel and has contributed to trade imports in excess of £670m in the last three months alone according to HMRC's UKTradeinfo website.
We congratulate you and your company and as the pressure on supplies in the South East continue to be stretched, we hope that you will be extending your supply agreement with Arad Technologies in the future to further benefit your Sussex customers, the environment, as well as the Israel economy.
Yours sincerely
Neil Duncanson
Director
Sussex Friends of Israel
SFI Sussex Friends of Israel is dedicated to developing greater support, awareness and understanding of Israel through education, communication and community partnership. www.sussexfriendsofisrael.org
The Algemeiner reports: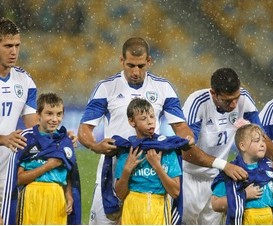 Israel team players cover up the mascots
In contrast, the Ukrainian players…
Israel's national soccer team caused a stir in Ukraine Wednesday after showing up their host team for lacking in common decency, according to media reports.
As the national anthems were played prior to a friendly match in the country the Israelis shielded a group of children lined up in front of them on the field from the blistering cold and the rain, while the Ukrainian team appeared to be indifferent to the children, pictures show.
The young children joined the players for the singing of the anthems as is customary in international matches, but were caught in a torrential downpour that began soon after they arrived on the pitch.  The Israelis removed their training jackets and covered the children after one of the players noticed that one of the children was shivering Israeli daily Yediot Ahronot reported.
"I am glad we made the gesture and I hope that all the children returned home safely," said Israeli soccer star Itay Shechter of the incident.
"When it began to rain during the anthems, we decided to take off our training jackets because we saw that the kids that were with us were freezing from the cold of the strong rain. We immediately decided to place the training jackets on the children so that they would feel a little more cozy and warmer," another player Eitan Tibi added.
According to Yediot Ahronot the incident prompted media headlines in both Ukraine and Russia criticizing the Ukrainian team. "The human reflex was to do what the Israeli players did," wrote one newspaper according to Yediot.
Unfortunately, it was their playing reflexes that were not up to scratch. Israel was defeated in the subsequent match against Ukraine, which took place in Kiev, by two goals to nil.
Pilots turn packed passenger jet AROUND to get cancer-stricken girl, 11, and take her to summer camp after she lost passport
Passengers and airline staff were initially devastated about having to leave the girl behind, even crying as she was led off the flight
Her passport was found in another camper's backpack minutes after departure from the gate

Everyone agreed the plane had to go back, passengers cheered when the girl was taken back aboard
By RYAN GORMAN Daily Mail
PUBLISHED: 04:51, 17 August 2013 | UPDATED: 13:59, 17 August
An Israeli airline – with the support of everyone on-board – turned around a plane to pick up an 11-year-old cancer patient.
All set to fly to New York August 7 to attend a camp for paediatric cancer patients, Inbar Chomsky, was taken off an El-Al Airlines flight after her passport went missing. Despite a frantic search by airline staff, passengers and the group Chomsky was travelling with, her passport was gone, flight attendants had no choice but to remove the sick girl.
Tears in their eyes, everyone said good bye to the devastated young girl after a half hour search aided by airline staff and passengers failed to turn up the girl's passport, according to Haaretz.
She made it: A very happy Inbar Chomsky with her found passport at Camp Simcha
'El Al sadly called her mother to tell her that Inbar's passport was lost and that the girl, who had been fighting illness so valiantly, would not be able to fly to Camp Simcha' Rabbi Yaakov Pinsky, director of of the Israeli branch of  Chai Lifeline wrote in Yeshiva World News. 'What a horrible experience for an 11 year old girl.'
Minutes after the doors closed and the plane taxied away from the gate, a fellow camper looking through another girl's backpack found Chomsky's passport and told flight attendants, according to Haaretz. 
What happened next is virtually unheard of, especially post-9/11.
The plane's pilots immediately stopped the plane, according to Haaretz, and after about 45 minutes were able to convince air traffic control to let them return to the gate to pick Chomsky up, Pinsky wrote.
Planes almost never turn around: No one could believe the plane returned to pick up Chomsky.
Still overcoming her disappointment while at the gate with Elad Maimon, program director of the Israeli branch of Chai Lifeline, Chomsky and others watched in disbelief as the plane turned around, said Haaretz. 'The flight attendants could not believe their eyes,' Maimon told the paper. 'They told me they had never seen such a thing.'
'Planes rarely return to the gate after departing, read an El Al statement, continuing that 'after consulting with El Al crew on the plane and El Al staff at the airport the decision was made and the plane returned to pick up Inbar.'
Overjoyed: Children with cancer and other terminal illnesses spending time at Camp Simcha
Picturesque: The camp is in the Catskills, an area long-popular with Jewish people for summer retreats
Passengers cheered and cried, wrote Pinsky, saying they shared 'Inbar's happiness and excitement,' and calling it 'one of the greatest moments' he has ever witnessed.
Located in the Catskill Mountains roughly two hours north of New York City, an area long-popular with Jewish tourists, Camp Simcha is a summer camp meant to uplift the spirits of children living with cancer and other similar medical problems, according to its website. Campers are medically supervised and take part in sports, carnivals, talent shows, helicopter rides and other activities.
Chai Lifeline works with Camp Simcha to bring children with pediatric cancer to the camp, among other activities.
Where Muslims Can Speak Freely in the Middle East
Today it has become evident that that leaders and members of the Islamic Movement in Israel enjoy more freedom and rights than the Muslim Brotherhood in Egypt, Jordan, and even — under the Palestinian Authority in the West Bank — Hamas.
Arab journalists and columnists in Israel have been expressing their views about the Egyptian crisis without fear, while their colleagues in Egypt, Jordan and the Palestinian Authority are afraid to speak their mind.
Israel, for example, is one of the few countries in the Middle East where Muslims are permitted to demonstrate in favor of ousted Egyptian President Mohamed Morsi and his Muslim Brotherhood organization.
This is not because Israel supports Morsi or the Muslim Brotherhood; it is because the Muslim protesters know that in a democratic country like Israel they can hold peaceful demonstrations and express their views without having to worry about being targeted by the authorities.
Israel has become a safe place not only for Arab Christians, but also for Muslims who wish to express their opinion away from intimidation and violence.
While pro-Morsi demonstrators are being shot, wounded, arrested and harassed in Egypt, the Palestinian Authority-controlled territories and some Arab countries, in Israel they are free to stage protests and express their views even in the heart of Jerusalem and Tel Aviv.
In Israel, pro-Morsi demonstrators even feel free to chant slogans against Israel and the U.S., and to hoist Hamas flags.
For the past five weeks, thousands of Muslim worshippers have been using Friday prayers at the Aqsa Mosque in Jerusalem to organize demonstrations in support of Morsi and the Muslim Brotherhood.
On August 17, thousands of Muslims demonstrated in Nazareth to voice support for Morsi. They also chanted slogans denouncing the "military coup" in Egypt, dubbing army commander Abdel Fattah al-Sissi a U.S. agent.
On August 15, one day after the violent crackdown on Morsi supporters in Cairo and other Egyptian cities, in which hundreds of Egyptians were killed, some 150 members of the Islamic Movement in Israel staged a protest outside the Egyptian embassy in Tel Aviv.
By comparison, the Palestinian Authority, which has come out in support of the ouster of Morsi, continues to crack down on Muslims who voice solidarity with the deposed Egyptian president.Not a single Muslim has been hurt or arrested in Israel for demonstrating in favor of Morsi.
While mosque preachers in Israel are free to express their views about the Egyptian crisis, their colleagues in the West Bank have been warned by the Palestinian Authority government against speaking out in favor of Morsi. Two preachers from the Jenin area who dared to violate the ban were quickly detained by Palestinian Authority security forces.
Earlier this week, Palestinian Authority security officers arrested two Palestinians for expressing public support for Morsi.
While Muslim Brotherhood leaders have been thrown into prison in Egypt, Raed Salah and Kamal al-Khatib, the leaders of the Islamic Movement in Israel, continue to lead normal lives and organize various political activities around the country.
One of them, Islambuli Badir from Tulkarem, was detained for manufacturing and marketing a perfume named after Morsi. The second, Mahmoud Ayyad, a poet from Bethlehem, was taken into custody for wearing a shirt with a portrait of Morsi.
Last week, Palestinian Authority policemen used force to break up a pro-Morsi rally in Hebron. Two local journalists, Akram al-Natsha and Mahmoud Abu Ghania, complained that the policemen threatened and insulted them during the confrontation.
Today it has become evident that leaders and members of the Islamic Movement in Israel enjoy more freedom and rights than the Muslim Brotherhood in Egypt, Jordan and even — under the Palestinian Authority in the West Bank — Hamas.