The Algemeiner reports: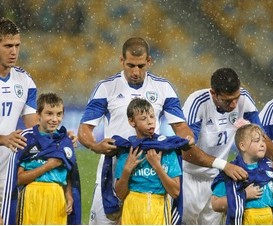 Israel team players cover up the mascots
In contrast, the Ukrainian players…
Israel's national soccer team caused a stir in Ukraine Wednesday after showing up their host team for lacking in common decency, according to media reports.
As the national anthems were played prior to a friendly match in the country the Israelis shielded a group of children lined up in front of them on the field from the blistering cold and the rain, while the Ukrainian team appeared to be indifferent to the children, pictures show.
The young children joined the players for the singing of the anthems as is customary in international matches, but were caught in a torrential downpour that began soon after they arrived on the pitch.  The Israelis removed their training jackets and covered the children after one of the players noticed that one of the children was shivering Israeli daily Yediot Ahronot reported.
"I am glad we made the gesture and I hope that all the children returned home safely," said Israeli soccer star Itay Shechter of the incident.
"When it began to rain during the anthems, we decided to take off our training jackets because we saw that the kids that were with us were freezing from the cold of the strong rain. We immediately decided to place the training jackets on the children so that they would feel a little more cozy and warmer," another player Eitan Tibi added.
According to Yediot Ahronot the incident prompted media headlines in both Ukraine and Russia criticizing the Ukrainian team. "The human reflex was to do what the Israeli players did," wrote one newspaper according to Yediot.
Unfortunately, it was their playing reflexes that were not up to scratch. Israel was defeated in the subsequent match against Ukraine, which took place in Kiev, by two goals to nil.